ACTE Excellence Awards Gala
The ACTE Excellence Awards recognize those individuals who have made extraordinary contributions to CTE, programs that exemplify the highest standards and organizations that have conducted activities to promote and expand CTE programs. Award winners serve as inspirational leaders to ACTE: they embody the core values of serving their students and being committed to CTE. All ACTE Excellence Awards are presented at the ACTE Awards Banquet in conjunction with ACTE's CareerTech VISION.
2019 ACTE Awards Gala
December 4 7:00-9:00 p.m.
Anaheim, CA
Don't miss the Awards Session at VISION on Thursday, December 5
Excellence Awards 101: A Comprehensive Overview of the Awards Process From Start to Finish
---
---
Awards Gala Keynote Speaker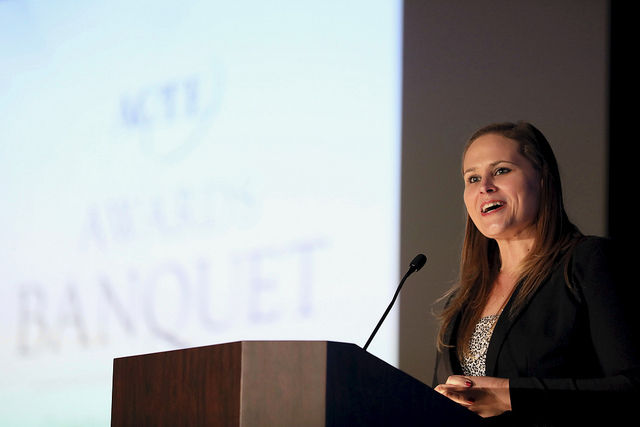 ACTE Excellence Awards Teacher of the Year: Liz Dinkins
ACTE was honored to award Ms. Dinkins one of ACTE's most prestigious titles, National Teacher of the Year at the 2018 ACTE Awards Gala. This year, we are excited to have Ms. Dinkins on stage again as the keynote speaker, to help celebrate this exciting evening honoring the best in CTE. Please click here to read more about Ms. Dinkins accomplishments as a Graphic Communications Instructor at Francis Tuttle Technology Center in Oklahoma City, OK.
---
At the 2019 Awards Banquet, ACTE will recognize the national finalists and winners of the ACTE Excellence Awards:
| | |
| --- | --- |
| ACTE Teacher of the Year, sponsored by Express Employment Professionals | ACTE New Teacher of the Year, sponsored by Goodheart-Willcox Publishers |
| ACTE Career Guidance Award | ACTE Teacher Educator of the Year |
| ACTE Administrator of the Year, sponsored by Goodheart-Willcox Publishers | ACTE Lifetime Achievement Award |
| ACTE Postsecondary Teacher of the Year, sponsored by Goodheart-Willcox Publishers | ACTE Business-Education Partnership of the Year |
| ACTE Carl Perkins Community Service Award | ACTE Champion for CTE Award |

In addition, the following awards will be presented at the event:
2019 CareerSafe Safety Educator of the Year, sponsored by CareerSafe
2019 ACTE Student Trophy Design Contest Winner, sponsored by Stratasys
If your business is interested in sponsoring the 2019 ACTE Awards Banquet please contact Jim Waterhouse
Awards Banquet Essentials
---
About the Awards Banquet: This dinner and awards presentation recognizes the best CTE educators in the country. The national winners and finalists of the Member Awards will be recognized, as well as the national Impact Award winners.
When and Where: Wednesday, December 4 from 7:00-9:00 p.m. during ACTE's CareerTech VISION 2019.
Attire: Come dressed for a night of elegance and excitement in your cocktail attire, for a night you won't soon forget, honoring the best in CTE.
Menu: Details coming soon.