Hotels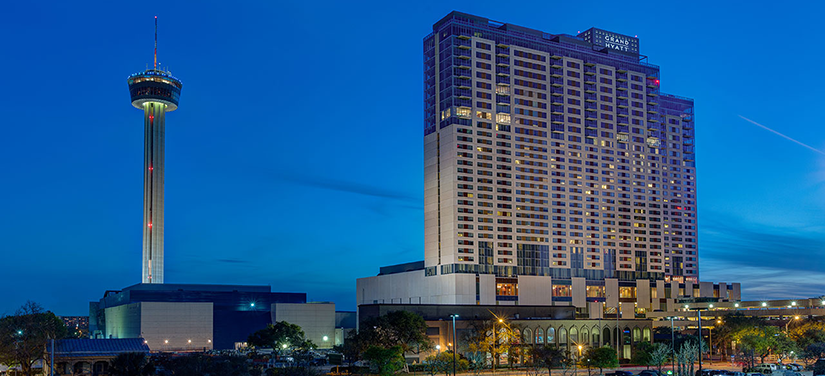 The host hotel, Grand Hyatt San Antonio, is currently sold out. Please see below for other hotel options where ACTE has negotiated group rates.
Since almost all of the hotels listed below are within reasonable walking distance to the convention center,
ACTE will not be providing shuttles.
Warning: If you are contacted by any company regarding VISION hotel reservations, please do not provide any information as ACTE does not use external companies to secure hotel reservations for attendees. This is a scam!
Holiday Inn Riverwalk
217 N. St. Mary's Street
San Antonio, TX 78205
Phone: 210-224-2500
Distance: 6 blocks from Convention Center
Hotel deadline is Oct.25. Please note, rooms may sell out before this date.
Rate: $169
Plus 16.75% and .07% State Cost Recovery Fee
Make your reservation online
The Menger Hotel
204 Alamo Plaza
San Antonio, TX 78205
Phone: 210-223-4361
Distance: 2 blocks from Convention Center
Hotel deadline is Nov.2. Please note, rooms may sell out before this date.
Rate: $169
Plus 16.75% and .07% State Cost Recovery Fee
Make your reservation online
Residence Inn Downtown/Alamo Plaza
425 Bonham
San Antonio, TX 78205
Phone: 1-888-236-2427
Distance: 3 blocks from Convention Center
Hotel deadline is Oct.22. Please note, rooms may sell out before this date.
Rate: $159
Plus 16.75% and .07% State Cost Recovery Fee
Make your reservation online
Staybridge Suites Downtown Convention Center
123 Hoefgen Ave.
San Antonio, TX 78205
Phone: 210-444-2700
Distance: 3 blocks from Convention Center
Hotel deadline is Oct.26. Please note, rooms may sell out before this date.
Rate: $159
Plus 16.75% and .07% State Cost Recovery Fee

Drury Plaza Riverwalk
105 S. St. Mary's Street
San Antonio, TX 78205
Phone: 210-270-7799
Distance: 4 blocks from Convention Center
Hotel deadline is Oct.24. Please note, rooms may sell out before this date.
Rate: $139
Plus 16.75% and .07% State Cost Recovery Fee
Make your reservation online
Hampton Inn Downtown Riverwalk
414 Bowie Street
San Antonio, TX 78205
Phone: 210-225-8500
Distance: 4 blocks from Convention Center
Hotel deadline is Oct.26. Please note, rooms may sell out before this date.
Rate: $139
Plus 16.75% and .07% State Cost Recovery Fee
Make your reservation online
Riverwalk Plaza
100 Villita Street
San Antonio, TX 78205
Phone: 210-225-1234
Distance: 4 blocks from Convention Center
Hotel deadline is Nov.2. Please note, rooms may sell out before this date.
Rate: $139
Plus 16.75% and .07% State Cost Recovery Fee
Make your reservation online
The Emily Morgan
705 East Houston Street
San Antonio, TX 78205
Phone: 210-225-5100
Distance: 4 blocks from Convention Center
Hotel deadline is Nov.19. Please note, rooms may sell out before this date.
Rate: $139
Plus 16.75% and .07% State Cost Recovery Fee
Omni La Mansion del Rio
112 College Street
San Antonio, TX 78205
Phone: 210-518-1000
Distance: 4.5 blocks from Convention Center
Hotel deadline is Oct.26. Please note, rooms may sell out before this date.
Rate: $169
Plus 16.75% and .07% State Cost Recovery Fee
The St. Anthony
300 East Travis Street
San Antonio, TX 78205
Phone: 210-227-4392
Distance: 6 blocks from Convention Center
Hotel deadline is Oct.24. Please note, rooms may sell out before this date.
Rate: $159
Plus 16.75% and .07% State Cost Recovery Fee
Make your reservation online
Sheraton Gunter
205 E. Houston Street
San Antonio, TX 78205
Phone: 210-227-3241
Distance: 8 blocks from Convention Center
Hotel deadline is Oct.25. Please note, rooms may sell out before this date.
Rate: $169
Plus 16.75% and .07% State Cost Recovery Fee
Make your reservation online
Candlewood Suites Downtown
1024 S. Laredo Street
San Antonio, TX 78204
Phone: 210-226-7700
Distance: 1 mile from Convention Center
Hotel deadline is Nov.10. Please note, rooms may sell out before this date.
Rate: $109
Plus 16.75% and .07% State Cost Recovery Fee
Wyndham Garden Riverwalk Museum Ranch
103 9th Street
San Antonio, TX 78215
Phone: 210-515-4555
Distance: 1 mile from Convention Center
Hotel deadline is Oct.28. Please note, rooms may sell out before this date.
Rate: $139
Plus 16.75% and .07% State Cost Recovery Fee
Make your reservation online
Hotel Valencia Riverwalk
150 East Houston Street
San Antonio, TX 78205
Phone: 210-227-9700
Distance: 4 blocks from Convention Center
Hotel deadline is Nov.1. Please note, rooms may sell out before this date.
SOLD OUT
Courtyard Riverwalk
207 N. St. Mary's Street
San Antonio, TX 78205
Phone: 210-223-8888
Distance: 4 blocks from Convention Center
Hotel deadline is Oct.31. Please note, rooms may sell out before this date.
SOLD OUT
La Quinta Riverwalk
303 Blum Street
San Antonio, TX 78205
Phone: 210-222-9181
Distance: 1 block from Convention Center
Hotel deadline is Nov.6. Please note, rooms may sell out before this date.
SOLD OUT
Hyatt Regency
123 Losoya
San Antonio, TX 78205
Phone: 210-222-1234
Distance: 3 blocks from Convention Center
Hotel deadline is Nov.2. Please note, rooms may sell out before this date.
SOLD OUT
Fairfield Inn & Suites Alamo Plaza/Convention Center
422 Bonham
San Antonio, TX 78205
Phone: 210-212-6262
Distance: 3 blocks from Convention Center
Hotel deadline is Nov.2. Please note, rooms may sell out before this date.
SOLD OUT
Homewood Suites Riverwalk Downtown
432 West Market Street
San Antonio, TX 78205
Phone: 210-222-1515
Distance: 3 blocks from Convention Center
Hotel deadline is Oct.26. Please note, rooms may sell out before this date.
SOLD OUT
Hyatt Place Riverwalk
601 S. St. Mary's Street
San Antonio, TX 78205
Phone: 210-227-6854
Distance: 2.5 blocks from Convention Center
Hotel deadline is Oct.27. Please note, rooms may sell out before this date.
SOLD OUT
San Antonio Marriott Riverwalk
889 E Market St,
San Antonio, TX 78205
Phone: 210-224-4555
SOLD OUT
Hilton Palacio del Rio
200 South Alamo Street
San Antonio, TX 78205
Phone: 210-222-1400
Distance: 1 block from Convention Center
Hotel deadline is Nov.3. Please note, rooms may sell out before this date.
SOLD OUT
Marriott Rivercenter
101 Bowie St
San Antonio, TX 78205
Phone: 210-223-1000
Distance: 2 blocks from Convention Center
Hotel deadline is Oct. 31. Please note, rooms may sell out before this date.
SOLD OUT

Hotel Contessa
306 West Market Street
San Antonio, TX 78205
Phone: 210-229-9222
Distance: 2 blocks from Convention Center
Hotel deadline is Oct. 24. Please note, rooms may sell out before this date.
SOLD OUT
Westin Riverwalk
420 W. Market Street
San Antonio, TX 78205
Phone: 210-224-6500
Distance: 3 blocks from Convention Center
Hotel deadline is Oct.31. Please note, rooms may sell out before this date.
SOLD OUT
Grand Hyatt San Antonio
Headquarter Hotel
600 E Market St,
San Antonio, TX 78205
Phone: 800-233-1234
Rate: $189
Plus 16.75% and .07% State Cost Recovery Fee
Hotel deadline is Oct. 31. Please note, rooms may sell out before this date.
SOLD OUT